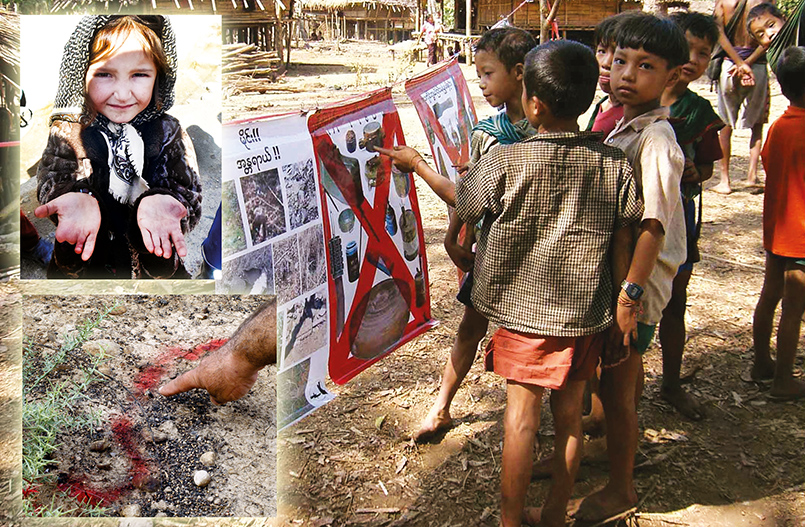 24 Dez

Eine Spende ist ein Geschenk mit Sinn – A donation is a gift with meaning
Verschenke eine Spende
Die Suche nach den passenden Geschenken ist unter Erwachsenen immer wieder eine Herausforderung. Bücher, Flaschen, Parfüm, Kleidung, Tickets, Geschenkgutscheine – die Reihe der Standardgeschenke, die vom Beschenkten schnell wieder vergessen werden, ist schnell aufgeführt.
Ein Geschenk ist keine Pflicht und sollte von Herzen kommen. Immer häufiger hört man: "Wir verzichten auf gegenseitige Geschenke und spenden lieber." Eine Spende für bedürftige Menschen vor Ort in der Nachbarschaft oder für globale Hilfsprojekte ist die bessere Alternative.
Wie wichtig eine Spende sein kann, zeigt die betterplace.org Spendenaktion "99 Füße für ein aufrechtes Leben von Minenopfern!" Die erzielten Spenden dienen der Unterstützung von GGL – Gemeinsam Gegen Landminen, einer gemeinnützigen Organisation aus Wien in Österreich. GGL ist in Asien sehr gut vernetzt sind und kann dafür sorgen, dass die Spenden ohne große Verwaltungskosten direkt am Ziel ankommen.
Die Fotos zeigen Momente der Arbeit von GGL in Asien
Auf dem großen Bild sieht man Plakate zur Aufklärung vor den Minengefahren, die ein GGL-Projektpartner in Myanmar (Burma) in einem Dorf aufgehängt hat, um der Zivilbevölkerung zu zeigen, wie heimtückisch die Landminen getarnt und versteckt werden, um einen möglichst großen Personenschaden zu erzielen.
Das kleine Bild links oben zeigt Fatima, die im Spiel einen Minenzünder aufgehoben hat. Dieser hat ihr die Finger weggesprengt. Vor dem Unfall träumte sie davon, eine Krankenschwester zu werden. Ihr Traum wird sich leider nie verwirklichen.
Auf dem kleinen Bild links unten sieht man den Zünder einer Improvisierten Sprengfalle (IED) im Irak. Die haarfeinen Drähte führen zu weiteren Auslösern. IEDs wurden von den Milizen des Islamischen Staates (IS) hinterlassen und sehr heimtückisch verlegt. Die IEDs werden meistens mit einer versteckten Aufhebevorrichtung vor der Räumung gesichert. Deshalb ist am 3. September 2019 ein Entminer des GGL-Projektpartners bei Entminung ums Leben gekommen.
Geben wir jetzt einem Menschen ein aufrechtes Leben zurück: (zur Spendenaktion für Landminenopfer)
Give a donation
Finding the right gifts is always a challenge among adults. Books, bottles, perfume, clothing, tickets, gift vouchers – the range of standard gifts that the recipient quickly forgets is quickly listed.
A gift is not a duty and should come from the heart. More and more often, we hear: "We give up mutual gifts and prefer to donate." A donation for people in need on the ground in the neighbourhood or global aid projects is the better alternative. Like the betterplace.org fundraiser "99 Feet for an Upright Life of Mine Victims!" The donations made are in support of GGL – Together Against Landmines, a non-profit organisation from Vienna in Austria shows how important a donation can be. GGL is very well networked in Asia and can ensure that donations reach the destination directly without large administrative costs.
The photos show moments of GGL's work in Asia
The large image shows posters to investigate the mine dangers that a GGL project partner in Myanmar (Burma) has hung in a village to show the civilian population how insidiously the landmines are disguised and hidden to make the greatest possible personal injury.
The small picture on the top left shows Fatima, who has lifted a mine detonator in the game. He blew her fingers away. Before the accident, she dreamed of becoming a nurse. Unfortunately, her dream will never come true.
In the small picture at the bottom left, you can see the detonator of an Improvised Explosive Device (IED) in Iraq. The hair-fine wires lead to further triggers. IEDs were left behind by the Islamic State (IS) militias and very insidiously laid. The IEDs are usually secured with a hidden lifting device to prevent eviction. That is why a deminer of the GGL project partner died in demining on 3 September 2019.
Let's give an upright life back to a person: (fundraising for landmine victims)